MyDSE.com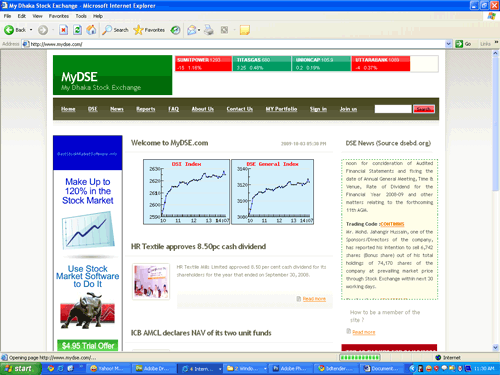 My Dhaka Stock Exchange is a Complete Web Based Stock Portfolio Management System. It helps stock traders to build their portfolio, keep sell-buy records and generate profit and loss reports.
MyDSE.com is a web based inventory management application for stock traders. Traders can insert / updates their trading records & get real time reports based on stock rates which synchronized with Dhaka Stock Exchange.
Investment Analysis Report, Trader can compare their investment between Dhaka Stock Exchange and normal banking investment
User can get Maximum / Minimum Rate Alert based on their alert setting.
User can maintain their BO (Beneficiary Owner) account & get up-to-date reports.
And these are FREE .
Technology : PHP-MYSQL, AJAX, Flash , DIV Based Design.
Category :Rich Internet Application